⟵

back to news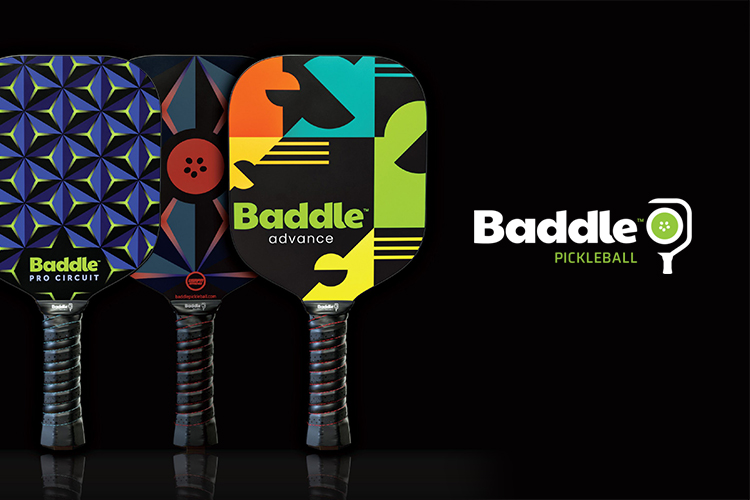 Introducing Baddle Pickleball — The Ultimate in Performance and Style
America's Fastest Growing Sport Welcomes a New Brand
Feburary 18, 2021 — Over the last seven years, pickleball has grown over 650 percent in player participation according to the USA Pickleball Association (USAPA). What was once the sport of the over 60 set has caught fire with younger players, fueling the construction of new courts, new leagues and new tournaments across the country. And now, a new brand as well.
"Make no mistake, pickleball is a social game, but it's also quite competitive," says Jordan F. Reber, Chairman and CEO of OvareGroup and OvareVentures, the company behind the new Baddle brand. "When we decided to get into the market our goal was to launch a line of paddles that offered the technical competence that today's tournament player demands, but also with a new and more vibrant style unlike any other brand. I think that's exactly what we've achieved, and I'm really excited about the response to our line so far," Reber added.
In addition to a growing number of pro shops, players can purchase Baddle paddles and gear on the company's website, baddle.com. The company's initial product launches are the Baddle Advance paddle and the Baddle Pro Circuit paddle, both approved by the national governing body for the sport of pickleball, the USAPA.
Paddle Power and Style
Key features of Baddle paddles include a polymer honeycomb core for balance and control, as well as Baddle's proprietary EdgeProtect Tech that surrounds the paddle's face to ensure the paddle holds up match after match.
Baddle Advance
Baddle Advance – A USAPA-approved midweight pickleball paddle designed for every level of play. It features a graphite paddle face and comes in two sizes, standard and XT Grip. The XT Grip has a 5.25" long handle for an extended reach. The Baddle Advance paddle retails for $110.
Baddle Pro Circuit
Baddle Pro Circuit – A USAPA-approved Pro Circuit midweight paddle designed for power and maneuverability. It features a fiberglass face with a large sweet spot for strength and a 5.25" anti-slip grip that is thoughtfully designed with functional whipstitching and holed ventilation for superior hand traction to minimize vibration. The Baddle Pro Circuit paddle retails for $130. 
"We did extensive testing not just on the physical performance characteristics of our paddles, but also on the graphic styles we applied to the face of every paddle. Our bold colors and geometric designs were found to be inspiring to players at every age group and competitive level," Reber added.
In addition to paddles, the Baddle brand will be seen on a fast-growing line of apparel for players. "Like tennis, we're seeing a growing desire from players to find outfits and gear that accommodate their comfort on the court with a greater sense of style and expression. From shorts, skorts, tops and shirts, to visors, paddle covers and other accessories, Baddle will be a comprehensive supplier of everything the serious and casual player needs to play the game they love," said Reber.